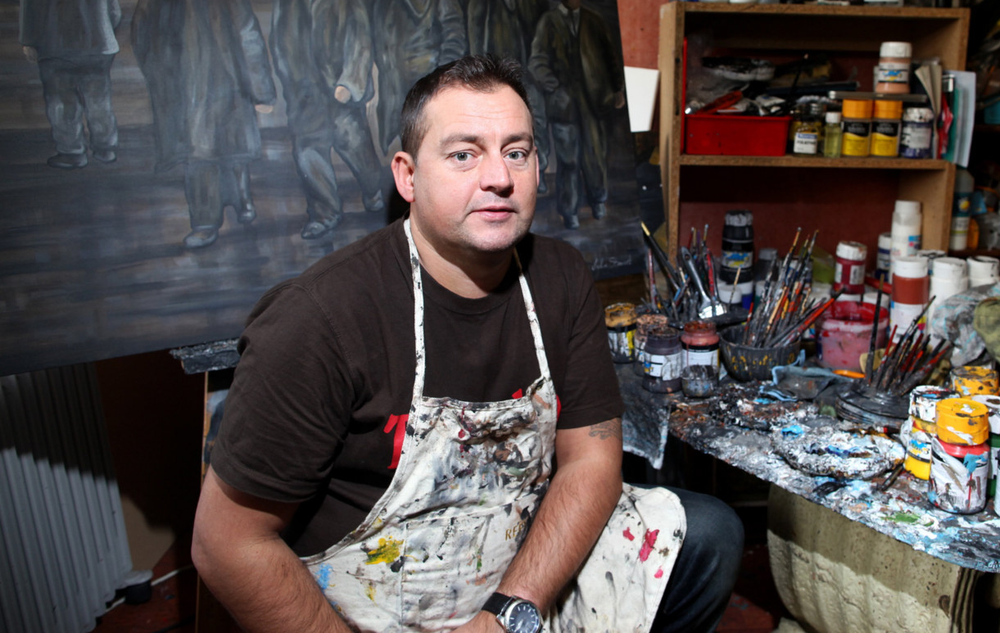 Born in Belfast 1973, John Stewart had the love of art at an early stage when starting to paint mural boards at Beechfield Primary School for the corridors under his art classes young as 8 years old.
Later in life his talent became noticed at Ashfield Boys Secondary school attending art and design classes at his classes he took a lot of interest in poster writing and was asked by his instructors to paint posters for a local circus at the age of 15 there he decided to take O and A levels in art and in 2000 after setting up a studio at home John started to become involved in fine art releasing works around local gallerys in Belfast and auction houses across the city north and south of the country there his works became popular with collectors near and far and there was a lot of interest in his canvas painting. 
design and loved what he was doing. His results set him up leaving school and becoming a stained glass artist at a Belfast decorative glass studio where he sketched designs for church stained glass windows as well as signwriting, painting and glass engraving was his duties. 
In 2008 he held his first exhibition in Belfast at his local library exhibiting 30 works on east belfast's industrial past some which involved The Ropeworks and famous factorys in Belfast as well as Titanic and Harland and Wolff' s history. 
A year later he exhibited at the Square Space gallery Belfast his works involved Belfast's past the way we lived and worked in early times some works focused on streets and buildings as well as Titanic and Harland Wolff. A while later he took part in a joint exhibition at the Higgin Gallery Malone house with another local artist which was focused on the Titanic a year before the ships centenary. He continued to carve his name across the city sign writing and painting murals with community based projects province wide also. 
After taking a lot of research up on Titanic he consatrated in the Launch and the Centenary events of the great ship working in the studio trying to capture every shot of the ship as well as the workers and the ways of life at the yard reading all the history and watching videos daily. In June 2011 he exhibited over 60 works at Gormleys Fine Art on a online auction studio sale as it was 100 years of the Titanic's Launch there it took a lot of interest and was a great success. 
He decided to plan a few studio shows at Gormleys Fine Art and Ross's Auction House as well as the Waterfront Hall for April 2012 the following year there he produced over 250 paintings in total across the 3 venues which took global interest among collectors near and far. 
John as an artist today is fascinated with the early 1900's looking at photos of early life and producing them on canvas's' some of his favourite paintings are the children gathering at the sweet shop in the 1960's as well as places like Smithfield Market and Belfast's famous landmarks and docks as well as early transport and the way we lived. 
In the past years being an artist his main inspiration and attraction is famous Belfast artist William Conor who captured the early life in the city as well as many shipyard workers and the citys favourite past's. John likes to work in oils and acrylic mainly in a bold way of painting some of his works can be quite large as he has been used with mural painting in the past years. Twenty years on painting John enjoys every minute where there is paint and canvas in front of him and the research involved which makes him the artist he is today.
On a daily basis in the studio he loves to research the way of life when workers in early times worked in famous places like Belfast Ropework's and local Mills as well as having the biggest shipyard in the world at one time. Factory's like Inglis's Biscuit Factory , Gallaghers Tobacco Factory and Sirocco Works were among many well known workplaces in east belfast were the workforce was large in our industrial times. Looking back at the past times and history of the city there is still a lot of interest reforming this history on to canvas as an artist. Most of John's Art is about the fascination you have wanting to reform forgotten times and not forgetting the past ways of life. Living in the shadows of the cranes just a stone throw away from the studio were he works he trys to capture different angles day and night of the famous icons of the sky as this is one of his favourite landmarks. After years of succesfull exhibitions across the city John continues to keep the palete wet a talented artist to look out for in the near future.